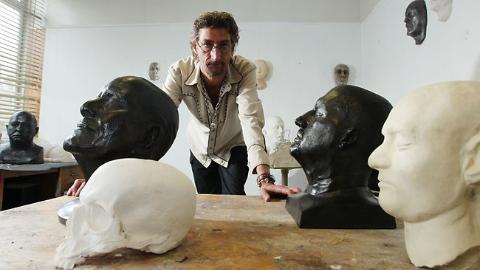 Nick Reynolds has been casting both the living and deceased since 1995, and is one of UK's leading specialists in this field.
Unlike pictures, death masks are the last three dimensional record on earth of a unique life. They have weight and a presence. They are also tactile and possess a cathartic quality that can offer more comfort than a photograph.
Faces, hands and feet may be cast. This involves moulding the subject with a soft compound from which a positive can be made. This positive can be presented in Plaster, Cold Cast Bronze, Bonded Marble or Real Bronze.
Heads/Faces
Faces can be wall mounted or self standing on request.
Half heads include ears and front of neck.
A full head with neck cast is more complicated but can be achieved.
Hands/Feet
Hands can be cast with one side exposed, whilst the other side is attached to a base.
Full Hands can be cast [both sides] at an additional cost as they are more complicated to produce.
Feet can be cast, showing the upper part of the foot and part ankle with the sole attached to a base
Full foot can be cast at an additional cost as they are more complicated to produce.
Nick Reynolds is also available for lectures on the history of Funerary and Death masks.In the past he has given talks for The Fortean Times, The Freud Museum, Highgate Cemetary Chapel and St Barts Pathology museum. His presentation with slides can take between 60 and 90 minutes long.
For pricing or any other info please email info@deathmasks.uk